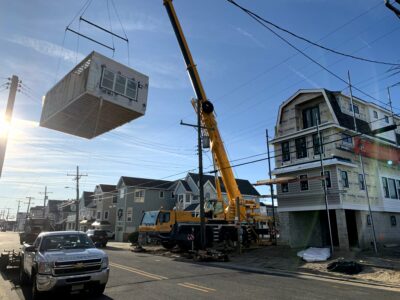 Garton's Rigging is your South Jersey modular home setting experts. Garton's is one of the leading crane rental companies for setting modular homes in Southern New Jersey. We pride ourselves on prompt and quality service. Using our cranes and rigging allows customers to keep costs down. Our services also include inspections of sites to help builders and homeowners determine accessibility for crane setup and modular box configurations. Our modular staff prides themselves in their helpful and personalized service.
About South Jersey Modular Home Setting
We will supply cranes to set the modulars on their foundations. We have the rigging/spreader bars and slings to use on the job. We usually supply an extra staff member to help move the job along. If needed, we can supply a tote- a tractor with a special ball-to move the trailers/house sections from one site to another or on the site where the job is being done. Again, reach is vital, so the crane needs to be as close to the foundation as it can get and the trailers as close to the crane as possible.
If you are looking to buy a module home anywhere in the tri-state area, ask that your modular home builder use Garton's Rigging to set it.
A family run business devoted to rigging and crane services for over 75 years, Garton is the name you can depend on. With our longevity and reputation, we know we're the team you can call when it's time to call on a company that can deliver great service at the fairest prices. If you're ready to get started, click here to get directed to our contact page. There you can leave your name, number, email, and what kind of work you need done. One of our staff will reach to to you shortly.