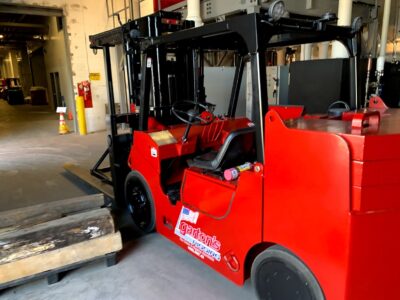 Garton's Rigging runs a full fleet for South Jersey forklift rental. All lifts are operated by a trained and certified operator to successfully and safely complete the job. We use numerous size lifts ranging from 5,000 pounds to 100,000 pounds, with attachments.
We have forklifts in various sizes with extended forks and booms. Our rentals are only with our operators. We deliver the forklift to the site with one of our flatbeds/ landolls. The forklifts that are used are based on the size and weight of the load. If we do not have the size, we have access to what is needed. Our forklifts are used with most of our rigging jobs to unload trucks or move machinery around in plants.
Our South Jersey Forklift Rental and Attachments Include:
ERRICKSON(25,000 LBS)
VERSA-LIFT MODEL 25/35 (UP TO 35,000 LBS)
YALE (15,000 LBS)
HYSTER (15,000 LBS)
CLARK (8,000 LBS)
TCM (5,000 LBS) CAT (5,000 LBS)
Extended forks (8′ to 15′)
Booms (500lbs – 10,000lbs)
Man-basket (for heights to 51′)
Versa-Lift 25/35 (New Addition)
A family run business devoted to rigging and crane services for over 75 years, Garton is the name you can depend on. With our longevity and reputation, we know we're the team you can call when it's time to call on a company that can deliver great service at the fairest prices. If you're ready to get started, click here to get directed to our contact page. There you can leave your name, number, email, and what kind of work you need done. One of our staff will reach to to you shortly.