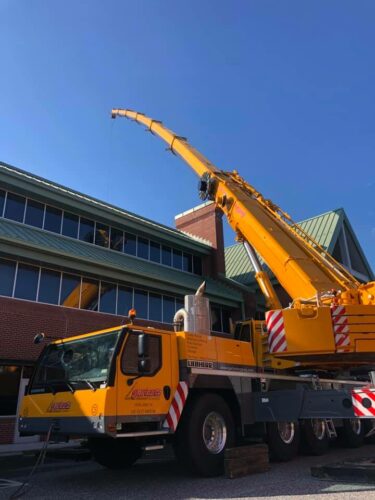 Garton's Rigging is your South Jersey crane rental source. We serve the tri-state area with experienced and knowledgeable service. All operators are CCO, NJ, and PA State Certified. In addition, all members of our team are qualified signalmen, MSHA certified, and OSHA compliant.
Our crane sizes range from 15 ton to 360 ton, with Access to cranes up to 500 ton. We offer attachments such as man baskets, dumpsters, and concrete buckets. The size of the crane is based on the load we are lifting – weight and radius. It depends on how high the piece has to go, how far in from the edge of the building, and how close to the building we can get. The smallest weight and distance change will make a difference in which crane is being used. The cranes have to set up on stable ground and can have no overhead obstructions. For example, there cannot be electric lines or trees overtop where we are working. We are happy to send someone out to look over a job if there any questions. Our cranes are driven over the road, but because of their weight and size, there may be restrictions on where they can travel. Proper rigging such as slings, shackles, and/or spreader bars are used. The rigging is rated and tagged as far as the weight it can handle and must be checked before use to make sure there is no damage to it. Safety is our number one factor.
The cranes we use are kept in excellent condition. They are mechanically maintained with constant maintenance and service. Our team does daily inspections before they leave and when they get back. We use forms and processing systems daily, and repairs are made immediately. The cranes we use are third party certified. At Garton's Rigging, we pride ourselves on how our equipment looks. We have federal and state-certified operators and qualified riggers and signal men. A rigger for the crane is someone who helps hook up rigging from the crane to the piece being lifted and guides the equipment to where it is going. A signal man is a person that will give hand signals to the operator to help guide the load. The signal men are needed when the crane is picking a piece in the blind, and the operator can't see the load. We have a great team of guys who are extremely qualified to run the equipment they do.
Uses of South Jersey Crane Rental
We Lift and Set the Following and So Much More:
Tanks (above and below ground)
Concrete Boxes (in-ground and above)
TV and Radio Towers
Pre-Cast Concrete
Beams
Decking
Metal Buildings
Log Homes
Modular Homes
Condensers
A/C Units
Structural Steel
Steel Bar Joist
Plant Work
Laminated Wood Beams
Roofing Materials
Concrete Bucket Work
Modular Basements